The ESTEC Golf Club wants to make the game of golf easily accessible for the entire ESTEC community. For this the club organizes many opportunities throughout the year to try out golf and hopefully take up the game. Different options are available for groups and individuals. Please contact the golf club with any questions you may have.
People with prior experience in golf can apply for membership here.
For first time golfers:
With most sports facilities being closed due to the current covid restrictions golf courses have remained open throughout most of the year. There is no better time to start your golf journey and enjoy the beautiful ESTEC Golf Course!
While we do offer practice evenings normally throughout the year, our best advice for those starting out is to take lessons with our professional. Far better to start with good habits rather than spend years trying to correct bad ones! We have arranged for the following introduction deal for the entire ESTEC Community: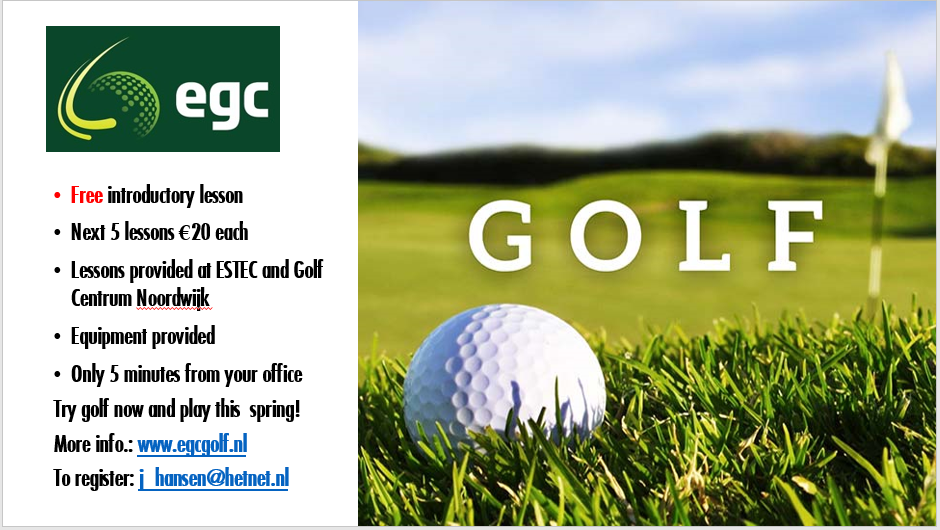 *Currently it is only possible to take the golf introduction at Golf Centrum Noordwijk. Additional cost apply for the use of the driving range.
Local driving ranges
We have a close relationship with Golf Centrum Noordwijk and the entire ESTEC community can make use of a discounted membership of the driving range facilities.  For more info on this membership please contact us. They offer state-of-the-art facilities and Toptracer technology on their driving range for more training options and different games to increase the overall enjoyment of your training.
Golf Centrum Noordwijk also offer their own very good introduction courses and 1-day GVB courses to provide you with everything needed to get you started into the game.  For more information about Golf Centrum Noordwijk please see their website:
There are also other golf facilities in the Noordwijk area where you can go for practice and training if this is more convenient:
Dekker Golf (Warmond)
Rozenstein (Wassenaar)
Tespelduyn (Noordwijkerhout)